RECOMMENDED TERMS and CONDITIONS OF VESSEL AGENCY
in the UNITED STATES and CANADA
Revised 2020 - PDF LINK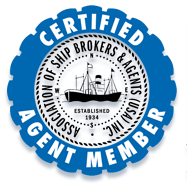 The purpose of this publication is to recommend guidelines concerning vessel agency in the United States.  Vessel owners, operators, charterers, and suppliers of services to vessel principals should find its contents beneficial in their port cost estimating while providing a standard of reference for services typically provided by ship agents under varying circumstances and appointments. We emphasize that these are recommendations only, however, these terms and conditions have been compiled from the operating practices of individual ship agency company members doing business in the USA and Canada.  Contracting parties are free to change them to suit their needs in any specific negotiations.

A.      TYPES OF AGENCY
1.     Agent of Record is appointed by the ship owner to oversea the commercial operation of the vessel's port call. Some of the required services:
Acknowledges appointment and issues Proforma Disbursement Account
Handles all notifications with U.S. government agencies regarding arrival of vessel and its cargo
Arranges services for vessel to enter port based on a single berth, accomplish cargo operations and departure
Arranges payment of all federal and local taxes/fees
Serves as the Point of Contact for all government action regarding the vessel, its crew and cargo
Prepares the Gate List and security measures as needed
Liaises with husbandry and/or protective agents, when applicable, to facilitate accomplishment of their duties
Receives and/or presents required documents from the vessel call to include but is not limited to: Statement of Facts, Bills of Lading, Final Disbursement Account
2.   Husbandry Agent is appointed by the ship owner to attend non-cargo matters. Services provided include:
Attending/assisting crew; on-signing, off-signing, stowaways, deserters, detainees and any medical needs
Attending to matters regarding technical management of the vessel i.e. spares, technicians, superintendents etc.
Arranging ship stores
 Notes:
a) Husbandry agents are compensated basis services requested.
b) Agent of Record attending husbandry items are compensated accordingly.
3.   Protective Agent is appointed by the owner or charterer to protect their interest, when under the charter party, the vessel is consigned to another agent.
B.    AGENT OF RECORD – BASE FEE INCLUDES:
Single berth or place of activity 
Loading or discharging up to 3 days.  
Additional fee applies to extra places of activity and/or days.  
Time starts at end of sea passage and continues through commencement of sea passage.
Base fee applies to full or part cargo
Note: Additional fees and services as per Section C
 
C.    AGENT OF RECORD – ADDITIONAL COMPENSATION (including but not limited to)
Overtime, Auto Mileage / Hire, Postage and Petties, Communications
Crew Change & Spares Shipment Coordination, Cash to Master Coordination and Delivery
Cellular Phone Rental
Outport Lodging for Agent
Courier service
Government Filings: ENOA/D (Electronic Notice of Arrival / Departure), PAN (96hr Pre-Arrival Notice), ACE (Inbound Cargo Manifest), APIS (Outbound Cargo Declaration), ACI (Advance Commercial Information) and amendment of filings due to incomplete or inaccurate information received from Principal
Use of Agency Company's U.S. Customs Vessel Term Bond
Export Cargo Documentation (Bills of Lading, Cargo Manifest, Certificate of Origin, etc.)
Import Freight Cashiering / Collection and Cargo Release
U.S. Customs Brokerage: Entry and Clearance
U.S.C.G. Port State Control & Certificate of Compliance Inspection Coordination
Arranging Bunkers and Lubes as a Separate Operation
Attending to federal, state or local intervention in vessel operations
Penalty and Fine Mitigation
Attending to General Average, Force Majeure, and Marine Casualties (oil spills, groundings, major repairs, strandings, detentions, collisions, etc., listed on CG-2692)
Hire Collection, Attending Vessel Delivery or Redelivery
Perform Superintendent Services
Conversion or Storage of Electronic Documents
Population of Third Party Electronic Systems and Databases
D.    APPOINTMENT TERMS
Principals shall defend and hold harmless agents from and against all expenses, claims and lawsuits for breach of contract, injury, death, or property damage alleged to arise out of operations or conditions connected with the vessel, crew, owners, operators, independent contractors, charterers or cargo. In the event charges/penalties are assessed against bonds provided on behalf of the vessels/cargo by Agent or its sub-contractor.
Principal shall promptly arrange U.S. collateral security to cover bonding exposure.  Principal shall pay all costs of collection, including reasonable attorney's fees, and shall pay interest on all unpaid amounts outstanding 30 days after accounts are rendered at the highest percentage rate allowable by law, compounded annually.
In the event of an oil spill requiring notice to governmental authorities under applicable law, Agent is authorized by Principal and the vessel to make such required notification.  Agent shall have a lien against vessel for all non-reimbursed expenses incurred on vessel's behalf.
One hundred percent (100%) of funds set forth in the agent's pro-forma, including that portion reserved for owner's matters and all agency charges (including cash advanced to Master) must be in the Agent's bank three (3) days prior to vessel's arrival.  
Agent must be placed in funds for all expected expenses prior to vessel's departure, if not, Agent is not responsible for late fees or penalties.